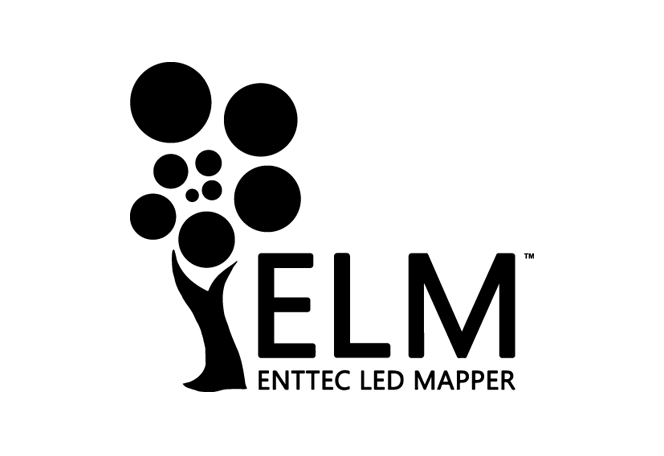 ENTTEC LED MAPPER (ELM)
The ultimate, powerful, and intuitive 2D and 3D LED pixel mapping software solution. ENTTEC's ELM is the easiest and smartest way to convert your ideas into reality. It can control up to 2048 Universes of DMX 512 and supports major industry-standard protocols and seamless integration with your favourite hardware.
Features
Tutorials
Downloads
Pixel mapping software
This intuitive 2D and 3D LED pixel mapping solution has options to suit any project, ranging from 4 universes up to an impressive 2048 universes
SKU: 70581-ETY (ENTRY 4U) / 70581-STU (STANDARD 16U) / 70581-ADV (ADVANCED 48U) / 70581-PRO (PROFESSIONAL 96U)
70581-SUP (SUPER 256U) / 70581-ULT (ULTIMATE 512U) / 70581-ARC (ARCHITECTURAL 1024U) / 70581-ELT (ELITE 2048U)

Control up to 2048 Universes of DMX 512. That's over a million channels and nearly 350,000 RGB LEDs.

Support for major industry standard protocols and seamless integration with your favourite hardware.

Multimedia-friendly: Use live video streams or sync your lighting project to audio.

Intuitive and easy to learn, yet packed with professional features, plus online video tutorials for every skill level.

Complete LED control
ELM is an intuitive, powerful, and cost-effective 2D and 3D LED mapping software solution. It gives you the most comprehensive tools and effects available to map LED digital pixel strip or fixture arrays regardless of shape or size. From media façades and bridges to nightclubs and live touring designs.
Simultaneously map live video inputs, pre-rendered video content, or create unique visual effects through the inbuilt generative effects library (including audio input), making ELM perfectly tailored to your requirements.
Run on the Windows platform, you can use the inbuilt scheduler to playback predetermined effects or be controlled in real-time from a number of industry-standard input protocols. ELM's simple stacking license system allows for control of as few as 2048 eDMX lighting channels all the way up to 1,048,576 for the most demanding of installations. Besides, license upgrades can be made at any time, ensuring the best flexibility and future-proofing for your project's pixel mapping needs.
Create an account or log-in then enter the Promo Code stuck to your device under the My Devices tab to be sent a license! – Find out more here!
If there is nothing on your device please check the "Read Me" card and then try typing in your ENTTEC pixel controller's serial number. We are currently in the transition period between methods so please try all three ways before contacting customer support.
Features
Scalable and responsive design
Combine raster-based media with vector-based scalable and repositionable objects to represent your LED strips, so it even handles the curves beautifully and with just a few mouse clicks.
Place for your media
Load video files, still images, camera feeds or live streams into the slots in your library and click on what you want to display. Supports HD video playback, and is SPOUT compatible for live video inputs. Can also act as a Network Device Interface (NDI®) receiver. A professional generative video effects library is included to get you started.
Effects and audio reaction
Over 100 built-in generative effects that you can personalise as you please. Control pixels using these magic presets or add your own media, generative effects and live video from input sources such as SPOUT and NewTek's NDI® (now supports v4.5). Alternatively, just flip a switch and ELM automatically mixes your media in sync with the music playing on your computer.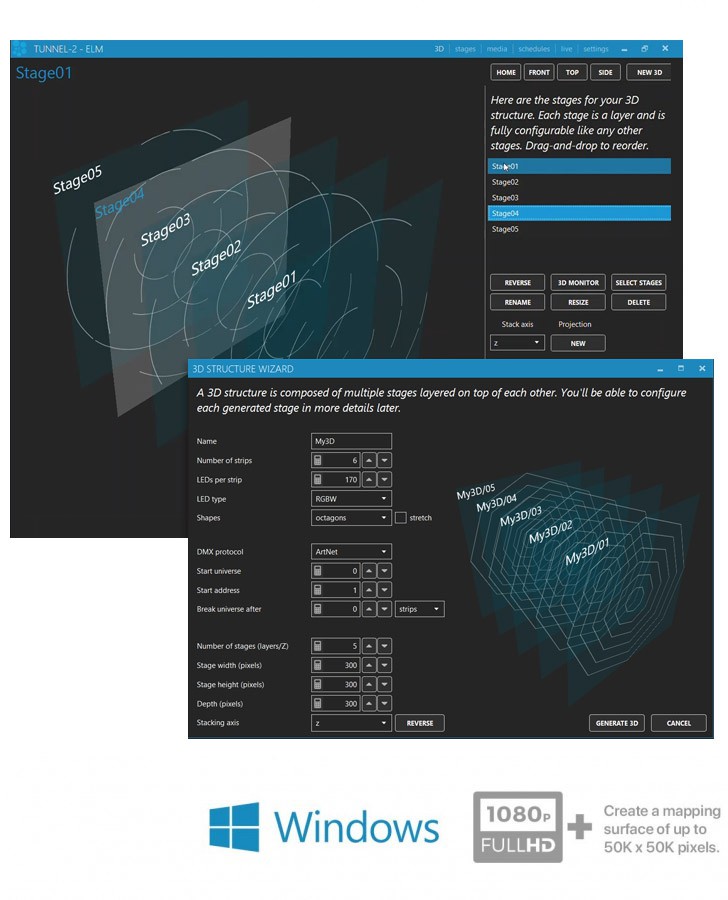 Design that's natural
Build your show in stages that layer on top of one another simply but powerfully. Use organically-shaped objects that you can quickly resize, stretch, deform, or move around on the screen so that your pixel map looks like your pixel strips do in the real world.
Control as you prefer
ELM lets you run a show with live interaction, scheduled playback, or via DMX control from a lighting console.
Multi protocol support
Supports Art-Net, sACN and KiNet protocols as output. Can be remote controlled via DMX, OSC or HTTP. Supports an extensive range of LEDs such as: RGB, RGBW, RGBA, RGBAW/RGBWA and White fixtures, including 16-bit protocols such as ENTTEC 9PDOT.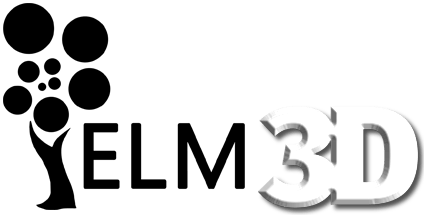 3-Dimensional LED control
As part of the most feature-rich update to our popular mapping software in its history, our team of software engineers and lighting design professionals have introduced the ability to create and control 3D pixel structures – adding quite literally a whole new dimension of creativity for all users, making it a cost-effective 2D and 3D LED mapping software solution.
This new way of working has been designed to allow existing users to be able to pick it up straightaway and begin building it into their current creative workflow.
Complex volumetric effects can be easily created using ELM's tested generative media effects, merge modes and input methods; whilst still allowing for precise control of each individual slice of the model, opening up a new approach to quickly generate effects.
Create custom shapes
Design your own shapes and adjust slices individually or as a whole.
Control the finest details
Configure slices individually or project content onto all layers together.
Add complex effects with ease
Create complex 3D effects easily using ELM's merge modes.
No 3D experience necessary!
You don't have to be a 3D CAD engineer to use ELM's 3D functionality.
Limited only by your imagination
ELM supports up to 2048 universes, with the ability to incorporate live interaction, scheduled playback and DMX lighting control. Plus 3D LED mapping, the only real limit is your imagination!
Entry Edition: supports 4 universes
Standard Edition: supports 16 universes
Advanced Edition: supports 48 universes
Professional Edition: supports 96 universes
Super Edition: supports 256 universes
Ultimate Edition: supports 512 universes
Architectural Edition: supports 1024 universes
Elite Edition: supports 2048 universes
Easily upgradable licenses
We believe that every user should have full access to ELM's complete range of tools, therefore our licensing system is based purely on the quantity of Universes required. If you need more output, simply purchase another license and stack them to increase the quantity of Universes available for use in your show. Note: all licenses must be activated on the same computer. If you feel like changing up the computer, each license edition allow you to reset up to certain limit as follow: Entry, Standard & Advanced = 3 reset limit; Professional, Super, Ultimate, Architectural & Elite = 4 reset limit.
Use snapshots for greater accuracy
Furthermore, image snapshots of the positions of the LEDs on stages can be exported in png format directly from ELM. This is incredibly useful for motion designers as they can use the snapshot as a content guide. You can find the "LED Snapshot" button under the Stage tab, just next to the monitor button.
ArtSync and sACN sync
Synchronise across multiple DMX nodes and pixel controllers for perfect playback with no tearing, ELM features both ArtSync and sACN to be enabled or disabled to suit your project.
Attention music lovers!
ENTTEC LED Mapper (ELM)'s popular audio functionality features special audio-reactive Eye Candy effects that will be sure to get your party pumping.
Other cool features include:
• Drive Eye Candy effects with audio
• 8 audio input channels
• Per-channel high/low frequency control
• Per-channel volume control
• ASIO support for minimum latency
• Activate via DMX, remote HTTP or OSC API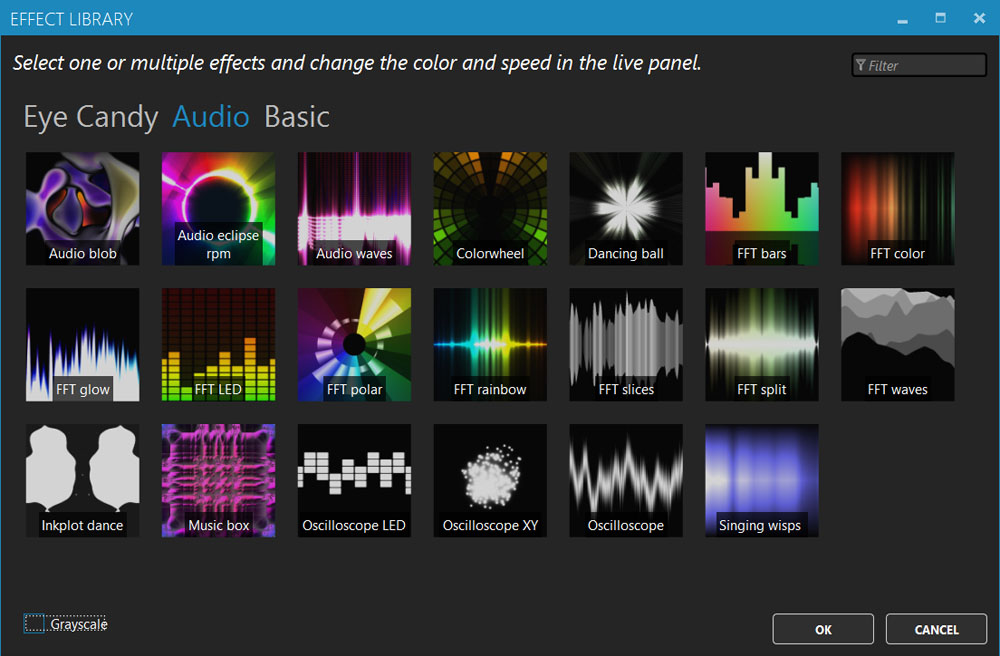 Intuitive. Efficient. Powerful.
ELM is a fully-featured piece of 2D and 3D LED mapping software designed to take your LED strip, dots or fixture project from concept to creation. The robust software is centred around ELM's intuitive and simple mapping process designed to make light work of mapping for anyone from new users to experienced professionals. The flexibility of ELM's vector-based mapping features are second to none.
Multi-segmented shapes
Whether you use the expanded shape library or create your own, it's never been easier to create complex shapes. Split long strips into smaller sections without having to re-patch. Or make a perfect closed loop by simply joining together both ends of a custom strip.
Mapping Tools
Copy/paste, invert, rotate lasso & position your pixels in any configuration. Useful features to increase your productivity. Import existing stages and shapes from previous projects to save even more time.
Quick positioning
Editing is a breeze thanks to ELM's locate, test and identify options. By automatically calculating the position of every LED based on your drawing, mapping speed has been significantly improved.
Monitor
Preview your work using the built-in 2D visualiser and use an image of your installation as background for better fidelity.
Experience ELM in action

Learn how to use ENTTEC's award-winning LED mapping software with this ongoing series of tutorials, covering everything from your first experiments with a simple array right through to more complex procedures such as 3D programming.
Optional Mac iOS support
ELM software runs on PC/Windows systems ONLY, but it can be controlled remotely by iOS/iPadOS devices using 3rd party software with the remote API's already integrated as standard.
Touch OSC by Hexler can allow recalling of states, or for a more complete implementation, ON LX's Ctrl for iPad allows ELM to be controlled as part of a wider installation with live thumbnails, creating a perfect customisable front-end interface for any installation requiring efficient editing on the run.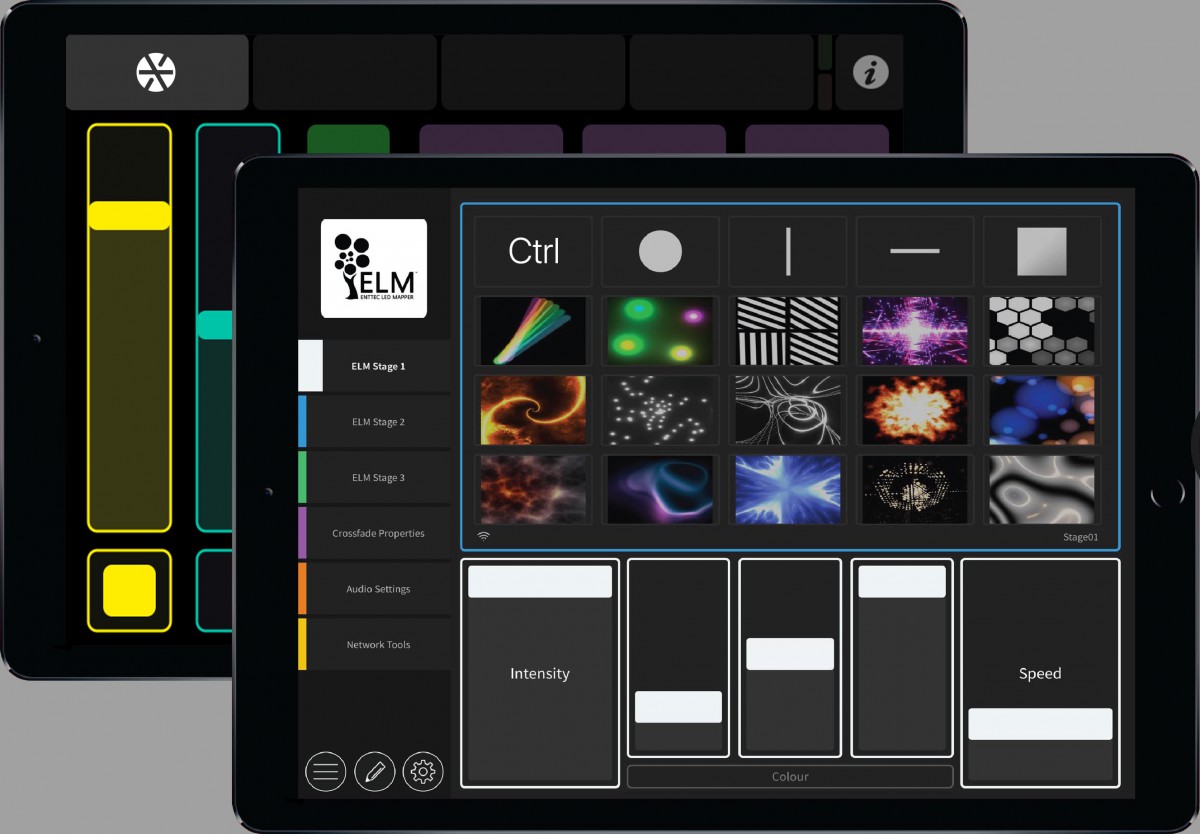 Downloads
A license is required to unlock our Pixel mapping software's full functionality. However, the app is free to download as a working trial version with upgrade reminder screens. So what are you waiting for? Start mapping today!
Download ELM
Download ELM
ELM
"*" indicates required fields
Demo project
Are you an ELM noob? Once you've installed the software above, you can download and import this handy, pre-assembled project file to start exploring ELM's UI controls, features and effects without first having to build your own stage from scratch. Simples!
Want to control ELM via a web interface?
ELM can serve static web pages on your local network, removing the need for you to set up a web server. We've made an example template for you to try out with your project. Simply download the folder here and follow the guide to get going!
TouchOSC
Documents
Useful links
Minimum system requirements
Windows 7+, 2GHz Intel i5, 4 GB RAM
NVIDIA GeForce 600 series or better, or
Intel HD Graphics 5500, released after 2013 with OpenGL 2.1 support
Recommended system
Windows 8 or 10, 2GHz Intel i7, 8 GB RAM
NVIDIA GeForce 900 series or NVIDIA 10 series or better
Supported ENTTEC Hardware