DMX USB PRO
The DMX USB Pro is the industry standard DMX USB converter for DMX/RDM. Control your lights from PC or MacOS software.
Features
Connectivity
Video
Specifications
Downloads
The industry standard USB to DMX converter.
Products don't become an industry standard for no reason. Used on a daily basis by countless lighting designers and installers across the world, the DMX USB PRO converter has proven for many years that it's a reliable and robust product that excels at so many fundamental applications.
It allows for USB 2.0 support through its USB Type-B connection to send or receive a physical DMX512 signal of up to 1 universe from PC, Mac or Linux devices running through a vast array of third-party software that supports our DMX USB PRO software API.
This popular DMX USB converter features an internal frame buffer for consistently generating DMX frames when outputting, ensuring a reliable flow of data and always giving you a stable data stream, regardless of your computer's workload.
You can also view the activity of the DMX USB PRO quickly via its LED status indicator. Use ENTTEC's EMU software to test, update and configure your device, and even change the firmware to support your exacting requirement (RDM or non-RDM).
Compatible with an enormous range of commercial and free software, you know you can always rely on the ENTTEC DMX USB PRO to do the job at hand.

Precision engineered + proudly made in Australia.
USB 2.0 support with status LED
1500V full isolation
RDM enabled + Input or Output mode
Internal frame buffer for stable DMX generation
Supports a huge range of commercial and free software
Widely compatible
Designed for simple USB connections across Windows, Mac and Linux, this device is compatible with an enormous range of commercial and free software.
Input or output
The DMX USB converter supports either DMX Input or DMX Output mode and comes RDM-enabled and has an internal frame buffer for steady DMX generation.
Isolated to protect
With industry standard-5 pin input and output connections as well as 1500V full isolation for both data and power lines, you can rest assured that your computer will be protected.
Perfect timing
Features an internal frame buffer for consistent DMX generation, therefore isn't dependent on your computer's processor to regulate a steady, reliable flow of data.
Industry standard
Industry Standard USB 2.0 support on Windows PC and MacOS, and popular Linux flavours. Even Raspberry Pi is supported, for the hobbyist within you!
Flexible
Refresh rate is fully configurable from 1 to 40 fps. Break time is configurable from 96uS to 1.3mS, and MaB is configurable from 10.6uS to 1.3mS. You can even change the firmware to support your requirement.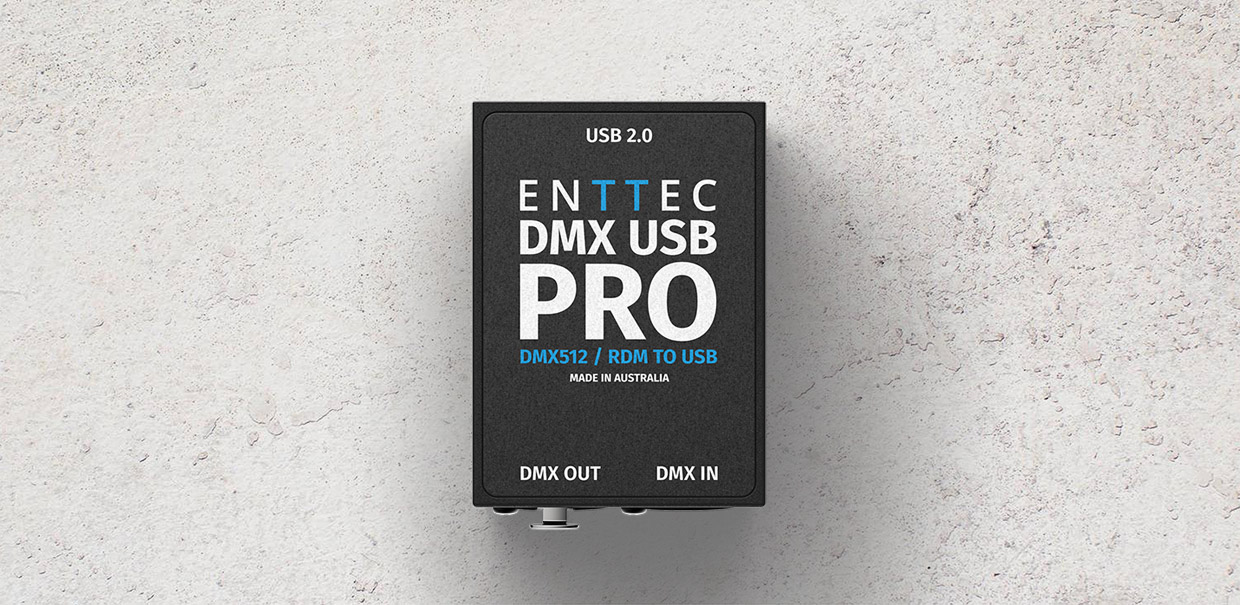 E N T T E C products are widely compatible with software
and lighting control systems from other popular brands.
Connectivity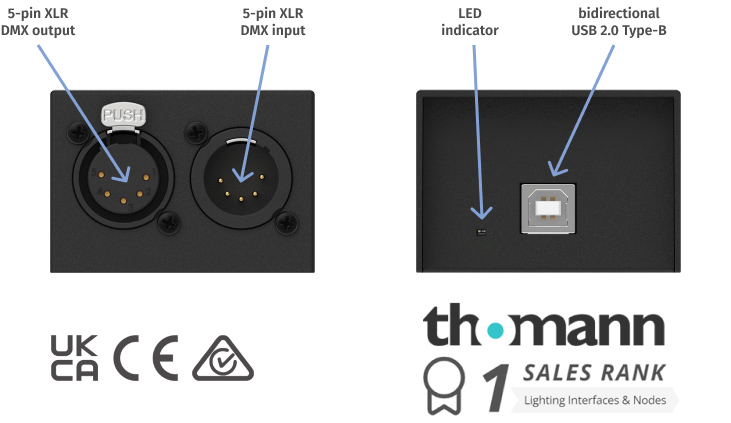 Let's get started!
It's so easy to produce great shows and ambiences with a DMX USB PRO as part of your lighting kit.
Follow this short demonstration to learn about the essential features of the device, and see how simple it is to set up.
You'll be thrilling your audiences in no time!
Input voltage 5V DC (via USB)
Input current 300mA
Power draw 1.5W
Connectors 1 x DMX output (female XLR5), 1 x DMX input (male XLR5), 1 x USB 2.0 Type-B
Protocols USITT DMX512-A, ANSI E1.20 RDM1
Maximum output channels 1 universe (512ch)
Max. output refresh rate 40FPS
Configuration software
ENTTEC EMU
Firmware updates
ENTTEC EMU
LED status indicator Yes
Standalone playback No
MIDI No
Body material ABS plastic
IP rating IP20
Operating temperature 0°-50°C / 32°-122°F
Operating humidity 5- 95% (non-condensing)
Mounting options N/A
Unit dimensions 80mm (3.12in) x 58mm (2.28in) x 40mm (1.57in)
Unit weight 80 g / 0.18lbs
Shipping dimensions 237mm x 165mm x 71mm
Shipping weight 0.30kg / 0.66lbs
Warranty 3-year return to base manufacturer warranty
Compliance RCM (Aus/NZ), CE / WEEE (EU), UKCA (UK), FCC (USA)