DIN PIXIE
A smart, cost-effective lighting control solution, the DIN PIXIE is a compact, 2-universe, DMX to LED pixel protocol converter and standalone player, engineered to take any architectural, commercial or entertainment project to the next level.
Features
Connectivity
Video
Specifications
Downloads
2-universe DMX to SPI pixel converter & standalone player.
ENTTEC's DIN PIXIE is a robust and reliable installation-grade DMX-to-SPI pixel converter and standalone player designed to make control of LED pixels easy.
Pre-program, or run live – it's your choice. Use its DMX inputs or stream to your DIN PIXIE via USB from a computer to control two live universes of DMX (256 RGBW, 340 RGB or 1024 White 8-bit LEDs). Alternatively, set your device to playback a standalone show of up to four universes that you've created and saved from Art-Net via EMU software to internal memory.
For bigger installs you can tie numerous DIN PIXIEs in with a STORM Ethernet-to-DMX node and expand out your installation to hundreds of universes.
Supporting a wide range of popular LED pixel strips and dots, the DIN PIXIE performs seamlessly as an integral part of almost any lighting system.

Precision engineered + proudly made in Australia.
Convert DMX to SPI pixel data
Store and play back a show of up to 4 universes
Control up to 340 RGB pixels per output
Supports a wide range of LED strips or dots
USB control API for custom applications
Wide input voltage range (5-48V)
Standalone playback
The DIN PIXIE is the perfect device for carrying a ready-to-go lighting show around with you – literally in your pocket. It can play back a stored sequence of up to 4 universes recorded using Art-Net via EMU software. Trigger your standalone show either from within EMU or on power-up of the DIN PIXIE.
Trusted technology
The DIN PIXIE expands upon the rock solid DMX USB technology and developer API that put ENTTEC on the map over 20 years ago with our original, bestselling Pixie Driver. The DIN PIXIE is our evolution of that classic device – only it's far more compact.
Powered by pixels
With its industry-leading, wide input voltage range of 5-48V, the DIN PIXIE is powered directly by your LED pixel strip or dots via either port. This means there's no need for extra wires or dedicated power supplies taking up precious socket space, making it a dream device for a fast, efficient install.
Surge-protected
Wiring mishaps can happen to even the best of installers from time to time, but at least you can be assured that your DIN PIXIE features a self-healing fuse with surge protection on every port. Plus, with reverse polarity protection on each SPI data line and built-in overtemperature protection, so you know your device will be safe and sound.
Installer-friendly
With support for multiple LED integrated circuits, the DIN PIXIE is packed with installer-friendly features. Its intuitive configuration enables the device to be heavily tailored to your projects, while its slim 4-DIN-unit form factor allows for discreet surface or TS-35 DIN rail mounting.
Custom protocols
ENTTEC pixel controllers support more than 20 pixel protocols by default within the device. In the event of a missing protocol, our custom feature allows the users to create a custom protocol for the desired pixel fixture anytime (two key criteria apply) without having to submit a support request for new firmware. Note: Rev B devices only.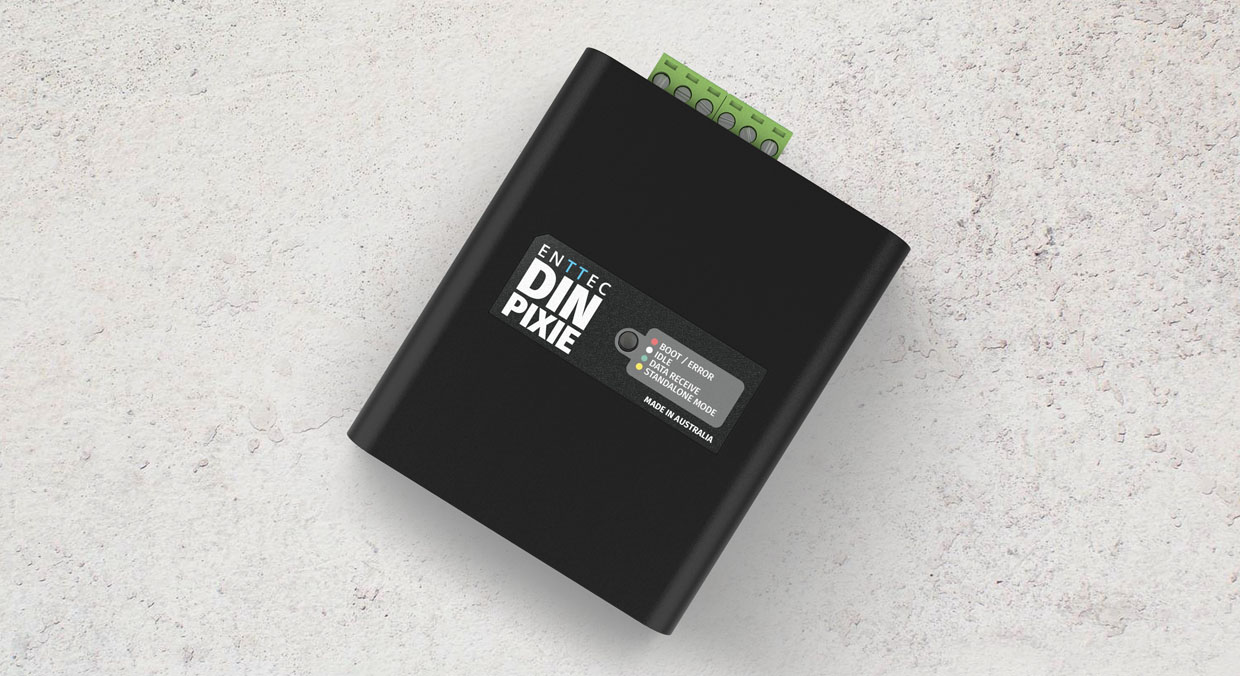 Pre-listed supported protocols*: APA 104, GS8208B, SPXL (16-bit & 8-bit), SK6812, TM1804, TM1812, TM1814, UCS1903, UCS2903, UCS2904, UCS8903 (16-bit & 8-bit), UCS8904* (16-bit & 8-bit), WS2811, WS2812, WS2812B, WS2813, WS2815, WS2818*, AHL003 (16-bit & 8-bit), SJ1221(16-bit & 8-bit), TLC5973(16-bit & 8-bit).
*IMPORTANT: If you wish to control a protocol marked with a * and the option to do so is missing in the current firmware interface for your product, please select WS2811 or WS2812b instead for your LEDs to work properly.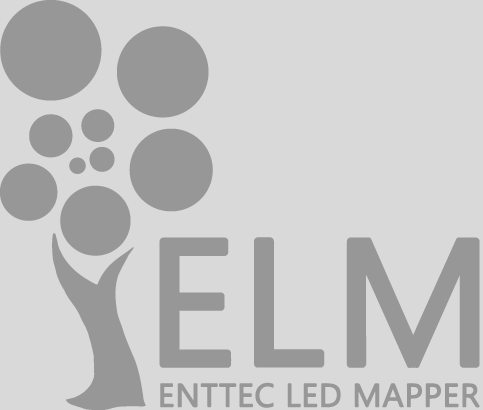 FREE pixel mapping software!
Purchase a DIN PIXIE and you'll receive a FREE 2-Universe licence for our award-winning ENTTEC LED Mapper (ELM).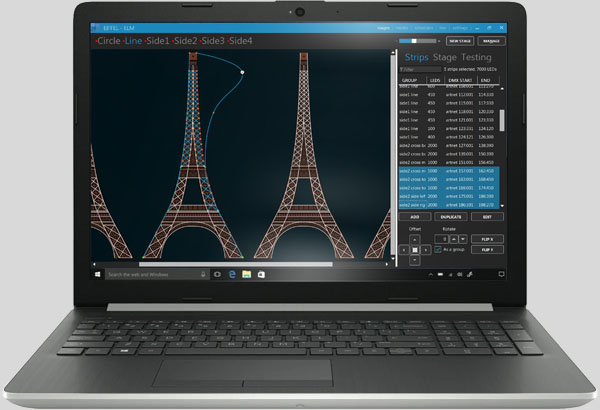 Connectivity

Let's get started!
It's so easy to produce great shows and ambiences with a DIN PIXIE as part of your lighting kit.
Follow this short demonstration to learn about the essential features of the device, and see how simple it is to set up.
You'll be thrilling your audiences in no time!
NOTE: This video features the Rev A version of the DIN PIXIE which features a different LED status configuration to the current Rev B model. The functionality of the device remains unchanged.
Input voltage 5 – 48V DC (via USB or output port VCC terminal)
Max. power draw 1.5W
Max. rated current per screw terminal (VCC / VCC0) 10A
ESD protection resettable fuse & TVS suppression per port
Surge protection all ports
Other protection diode & resettable fuse to block stray power on data line
Data input USITT DMX512-A protocol via 2 x RJ45 ports
Data output SPI protocols (customisable) via 2 x 3-pin Phoenix ports
Max. output per port 2 universes (1024 channels, duplicable on both ports)
Max. output refresh rate 40FPS
Latency 5 milliseconds
Configuration input 1 x USB 2.0 Type-B port
Configuration software
ENTTEC EMU
Firmware updates
ENTTEC EMU
LED indicator forward-facing status LED
Mounting surface & TS35 DIN rail mountable (clips & screws included)
IP rating IP20
Environmental operating temperature -20°C to 50°C / -4°F to 122°F
Environmental operating humidity 5- 95% (non-condensing)
Body material ABS plastic
Unit weight 95g / 0.21lbs
Shipping dimensions 160mm x 140mm x 40mm
Shipping weight 0.22kg / 0.49lbs
Compliance RCM (Aus/NZ), CE / WEEE (EU), UKCA (UK), FCC (USA)
Warranty 3-year return to base manufacturer warranty
Rev A or Rev B: which version do I have?
If your serial number is less than 2358764, you have a DIN PIXIE Rev A. If your serial number is greater than 2358765, you have a DIN PIXIE Rev B.
Please note that firmware versions V2.0 upwards are not backward compatible with DIN PIXIE Rev A.