OCTO
8-universe eDMX to SPI pixel controller with standalone FX mode and an added overdrive feature capable of transmitting up to 16 universes of SPI data in a compact 4-module DIN-rail form factor.
Features
Connectivity
Video
Specifications
Downloads
8-universe, DIN-rail eDMX to LED pixel controller.
Often referred to as the 'OCTO Mk2' (as the successor to ENTTEC's original 'PIXEL OCTO' DIN-rail LED controller), the OCTO is a little box that packs a huge punch.
An 8-Universe, dual-output eDMX to LED pixel data converter, the OCTO is a robust and reliable installation-grade device. This smart controller connects directly to your LED lights, and is engineered to take any architectural, commercial, or entertainment project to the next level.
Designed with ultra-fast deployment of LED strips and pixel dot systems in mind, the OCTO has eDMX support for Art-Net, sACN , ESP and KiNet data, and is compatible with almost every SPI LED strip due to custom protocols and an industry-leading voltage input range.
With its easy-to-use localhost web interface, create gradient effects effortlessly via the inbuilt FX engine. Run them as standalone shows on power-up, eliminating the need for a DMX source. Or, if you need to control more than 4 universes of LEDs per port, the OCTO's automatic Overdrive Mode will boost your output up to 16 universes in total.
Its installer-friendly features include network chaining, custom output protocols, plus an identify button to check correct wiring without a data source. What's more, with flexible TS35 DIN rail or surface mount options to choose from, the OCTO is the ultimate go-to LED pixel control device for almost any scenario.

Precision engineered + proudly made in Australia.
Convert eDMX to SPI pixel data
Onboard FX engine for standalone playback
Control up to 2730 RGB pixels in Overdrive Mode
Supports a wide range of LED strips or dots
Wide input voltage range (4-60V)
Flexible mounting options
Standalone FX mode
While the OCTO is well-known for its supreme handling of live eDMX data feeds, it also features a handy standalone function. Create and edit gradient effects with real-time preview via the onboard FX generator – then set them to play automatically upon power-up with no DMX source or user interaction needed. Easy!
4U + 4U = 16U?
That's right! Although ostensibly an 8-universe LED controller, the OCTO will efficiently convert up to 16 universes of DMX-over-Ethernet to SPI pixel data (8U per output), with auto-activation of Overdrive Mode when configured to output more than 4U per port – because you never know when you might need that little bit extra.
Powered by pixels
With its industry-leading, wide input voltage range of 4-60V, the OCTO can be powered directly by your LED pixel strip or dots via either port. This means there's no need for extra wires or dedicated power supplies taking up precious socket space, making it a dream device for a fast, efficient install.
Easy fault-finding
The auto-refreshing view of channel values for each universe combined with network stats means you know exactly what data you are receiving and where it's coming from. Add to that, with the Identify button setting the output to max, installers can quickly check if wiring is correct without having to rely on incoming data. It's a breeze!
Installer-friendly
With support for multiple integrated circuits, the OCTO LED controller is packed with installer-friendly features. Its intuitive configuration enables the device to be heavily tailored to your projects, while its slim 4-DIN-unit form factor allows for discreet surface or TS-35 DIN-rail mounting.
Custom protocols
The OCTO supports more than 20 pixel protocols by default within the device, with and without a clock line. In the event of a missing protocol, our custom feature allows users to create a custom protocol for their desired pixel fixture anytime – without having to submit a support request for new firmware.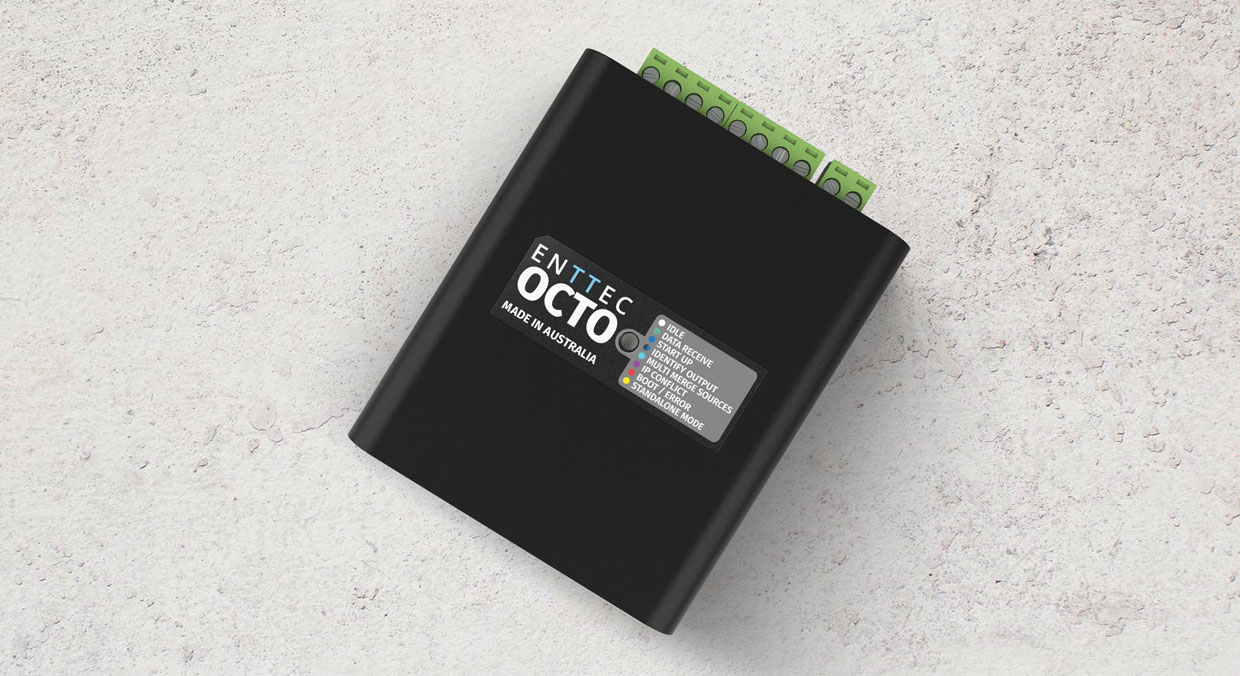 Pre-listed supported protocols*: APA 104, GS8208B, SPXL (16-bit & 8-bit), SK6812, TM1804, TM1812, TM1814, UCS1903, UCS2903, UCS2904, UCS8903 (16-bit & 8-bit), UCS8904* (16-bit & 8-bit), WS2811, WS2812, WS2812B, WS2813, WS2815, WS2818*, AHL003 (16-bit & 8-bit), SJ1221(16-bit & 8-bit), TLC5973(16-bit & 8-bit).
*IMPORTANT: If you wish to control a protocol marked with a * and the option to do so is missing in the firmware interface for your product version, please select WS2811 or WS2812b instead for your LEDs to work properly.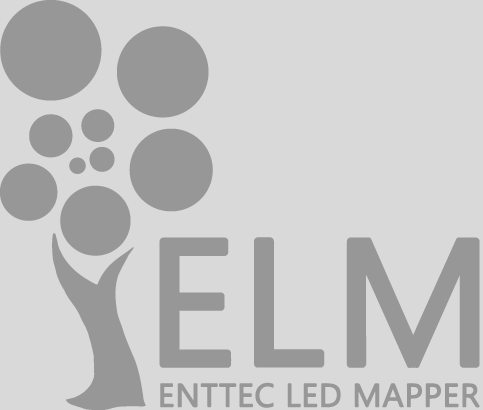 FREE pixel mapping software!
Purchase an OCTO and you'll receive a FREE 8-Universe licence for our award-winning ENTTEC LED Mapper (ELM).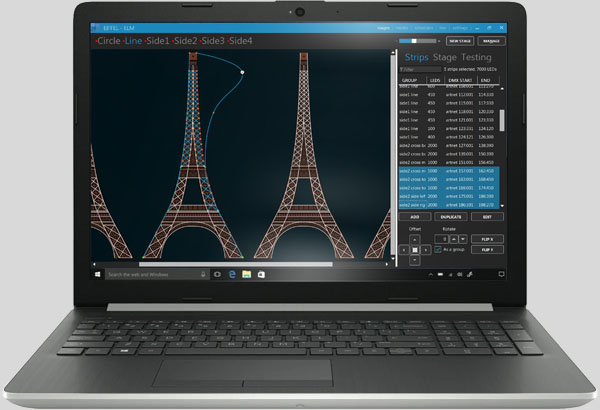 Connectivity

Let's get started!
It's so easy to produce great shows and ambiences with an OCTO LED controller as part of your lighting kit.
Follow this short demonstration to learn about the essential features of the device, and see how simple it is to set up.
You'll be thrilling your audiences in no time!
NOTE: This video features the launch version of the OCTO MK2 which features a different LED status configuration to the current model. The functionality of the device remains unchanged.
Input voltage 4-60V DC (via 2-pin Phoenix or direct from LEDs via SPI ports)
Max. power draw 5W
Max. output voltage 5V
Max. output current 50mA
Max. heat dissipation 4.5W
Cooling method convection
Operating temperature -20°C to 50°C /-4°F to 122°F
Operating humidity 5 to 95% (non-condensing)
Data input eDMX (Art-Net, sACN, ESP or KiNet protocols) via 2 x RJ45 ports
Data output SPI/NZR protocols (customisable) via 2 x 4-pin Phoenix ports
Max. eDMX -> pixel conversion per device 16 universes (8,192 channels)
Max. pixels controllable per device 1360 x RGB (680 per port) / 1024 x RGBW (512 per port)
Network speed 10/100Base-T
Network discovery ENTTEC EMU software
Network configuration static (default 192.168.0.10) / DHCP
Recommended network device quantity per chain up to 8 devices for optimum synchronisation between outputs
Body material ABS plastic
IP rating IP20
LED indicators forward-facing status LED plus network link/activity (integrated into RJ45 ports)
Mounting options surface & TS35 DIN Rail mount
Unit dimensions 100.5mm x 72.25mm x 34mm
Unit weight 0.11kg / 0.24lbs
Shipping dimensions 160mm x 140mm x 40mm
Shipping weight 0.18kg / 0.39lbs
Warranty 3-year return to the base manufacturer warranty
Compliance CE / WEEE (EU), UKCA (UK), RCM (Aus/NZ), UL / FCC (USA), UL (Canada)
Which OCTO version do I have?
Firmware v4.0+ is for OCTO devices with serial numbers 2374307 onwards ONLY.

For firmware and documentation for other iterations of the OCTO, please follow the legacy resource link here that matches your respective model: