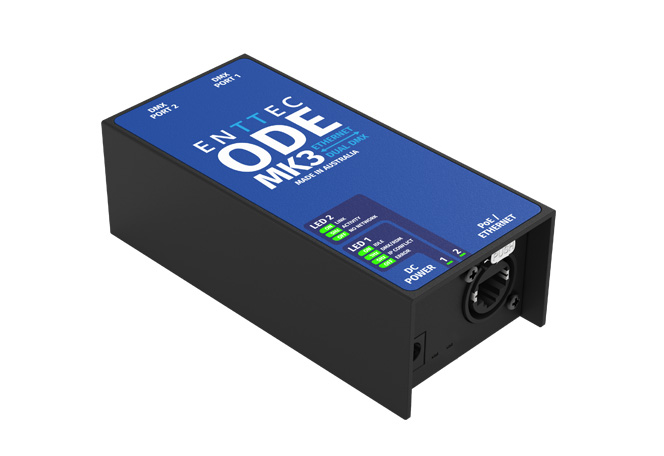 ODE MK3
With 2 Universes of Ethernet to DMX conversion featuring Art-RDM support, Power over Ethernet (PoE) or a flexible 12-24v DC input, the ODE MK3 allows for fast deployment of DMX systems compatible with a wide range of devices.

The ultimate Power Over Ethernet DMX interface
The ODE MK3 is a robust, reliable, installation-grade, Ethernet to DMX converter engineered to connect DMX fixtures to your Ethernet network infrastructure. Now you can expand your lighting project to the next level.
With two Universes of bi-directional eDMX to DMX conversion and Art-RDM support, the ODE MK3 is compatible with a wide range of devices and allows for fast deployment of your DMX system. Simply connect, configure and take control!
Additionally, this Ethernet to DMX/RDM gateway is packed with installer-friendly features for a speedy installation and configuration, all managed through a web UI – and contained in a compact, portable form factor.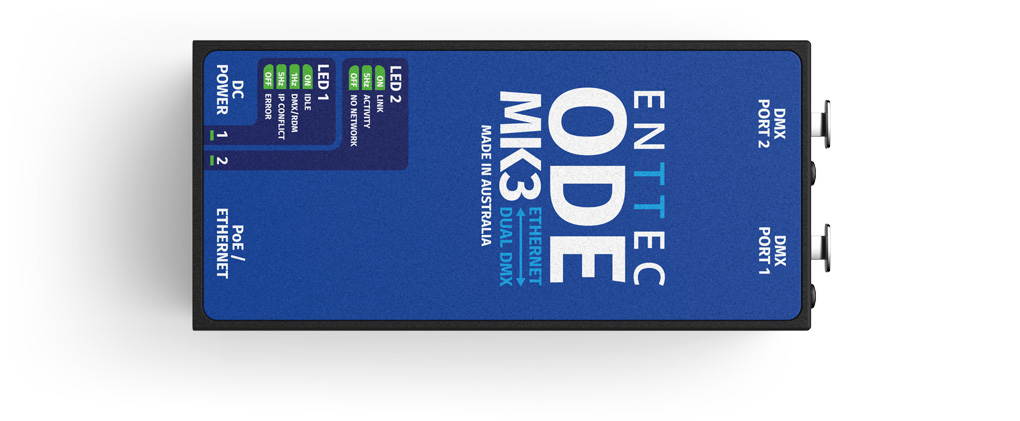 Two bi-directional female 5-pin DMX ports with optional RDM (E1.20) support.
IEEE 802.3af PoE (Power over Ethernet) or DC 12-24V input.
Support for Art-Net 4, sACN and ESP to DMX conversion.
Support for DMX -> Art-Net (Broadcast or Unicast) / DMX -> sACN (Multicast or Unicast).
Intuitive device configuration and updates through the inbuilt localhost web interface.
10/100 Mbps network speed.
'Current Port Buffer' allows live DMX values to be viewed in the web UI.
Configurable DMX output refresh rate.

Easy web page configuration
Configuration is managed through the localhost web interface to simplify commissioning and updates. Consequently, the ODE MK3 to be configured from any computer on your network.
Flexible power options
Power the ODE MK3 using IEEE 802.3af PoE (Power over Ethernet) or DC 12-24v input.
Sync mode
All ENTTEC Ethernet hardware accepts ArtSync to fully synchronise Art-Net data across your installation when receiving Art-Net from the same source to protect against content tearing and ensure a professional looking output across your rig.
Time-saving and installer-friendly
This Ethernet to DMX converter is packed with installer-friendly features including industry standard 5-pin XLR ports to simplify wiring.
Also, a 'Current Port Buffer' within the web interface allows live DMX values to be viewed from the localhost web interface to troubleshoot your installation. Upon receiving power, the device is ready to for action within seconds.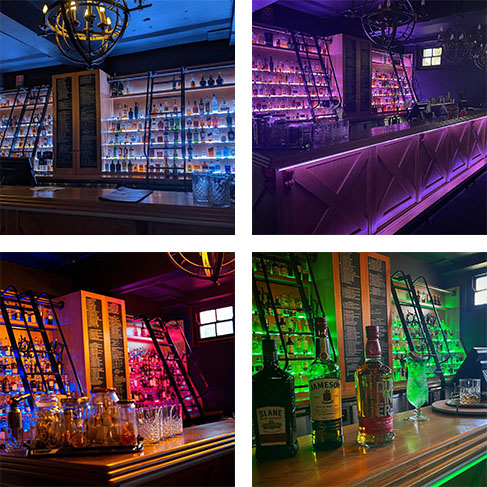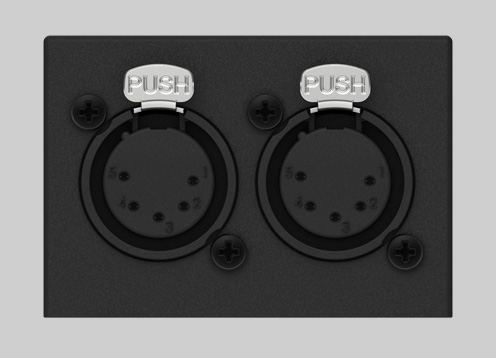 Monitor activity
The LED indicators allows you to monitor connectivity & status in a quick glance.
Protocols
The ODE Mk3's primary functionality is to convert between Ethernet-DMX protocols and USITT DMX512-A (DMX). The following conversions are available with the ODE Mk3:
To learn more about these functions, check out the documentation.

DESIGNED + MANUFACTURED IN AUSTRALIA BY

By making everything ourselves in our state-of-the-art Melbourne facility, we ensure the highest possible levels of consistency and quality control over our products. We've created a reliable brand that people know they can trust.

A key part of your smart home infrastructure
At ENTTEC we've built a reputation for system compatibility and integration.
Unlock a world of potential by integrating the ODE Mk3 Ethernet to DMX interface. Simply pair it with a number of well-known automation systems using generic Art-Net or sACN (E1.31) drivers to allow you to send and receive DMX and RDM.
If your control system of choice is unable to send Art-Net or sACN, we have a solution for you!
Our S-Play show controller is able to receive a wide range of low bandwidth input triggers and send out streams of lighting control data to the ODE MK3 and other DMX nodes across your installation network. Check it out here!

Resources
Documents
Visuals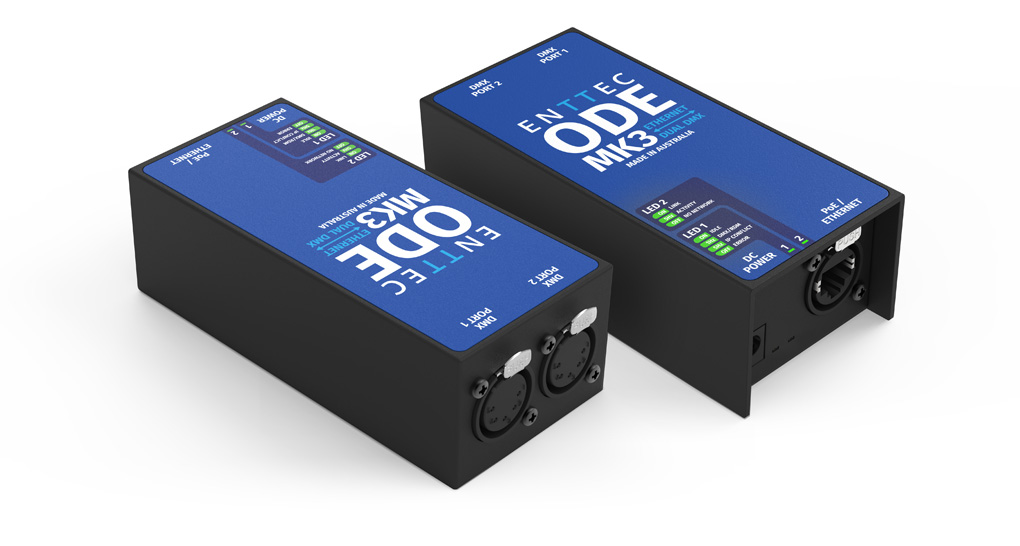 EMU
EMU isn't only just a great lighting tool made for creating beat-perfect light shows. It gives you the ability to discover ODE's on your network using ArtPoll, test the output by sending control data over your network. EMU runs on both Windows and MacOS.
Related products