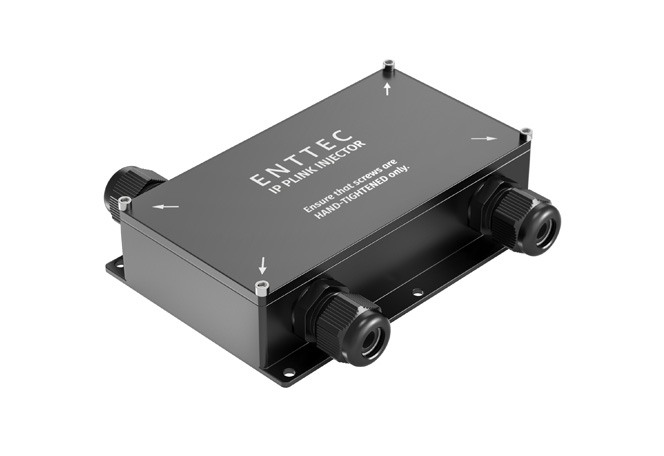 IP PLink Injector
Ruggedized PLink to pixel data injector designed for controlling LED pixels outdoors as part of the PLink system.
The smart way to connect your LED pixel lights outdoors
The IP PLink Injector is a waterproof pixel data injector, engineered to work as part of an ENTTEC Pixelator Series setup making it fast, easy and affordable for you to control LED pixel strips or SPI LED pixel dots over long distances outdoors.
With no local configuration needed, it's capable of receiving up to 2 Universes of PLink data from an ENTTEC Pixelator Series controller and converting it to SPI data used for auto-addressing pixel LEDs. Inside the housing, high current rising clamp connectors and an RJ45 port make connection simple.
The IP PLink can be powered from the same supply that feeds your LED dots with either 5V or 12-24V operating voltage (selectable with an internal cable jumper).
The flexibility of the Pixelator system combined with the IP PLink's robust, anodized aluminium body, makes it fast to install and easy to use – a scalable system perfect for large outdoor projects.
Our PLink Injector is also available as an IP20 indoor variant at either 5V or 12-24V.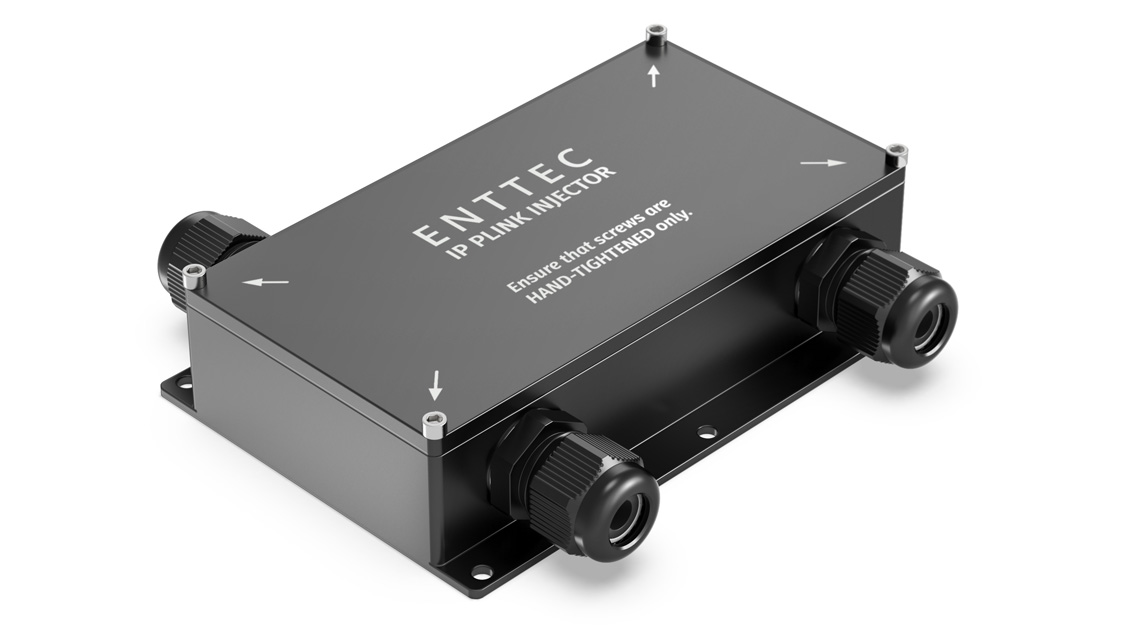 Features
Each IP PLink Injector can control up to 340 individual RGB 8-bit or 256 RGBW pixels (2 DMX Universes) when connected to a Pixelator family controller.


The IP Plink can be powered from the same PSU as your LED pixels with an operational voltage range selectable with a jumper to be either 5V or 12-24V DC.
Data extensions up to 300 metres over Cat5/Cat5e/Cat6 cable between the Pixelator and IP PLink (maximum 3m cable length from the IP PLink to data


Compact, robust, easy-to-hide design constructed from machined 6061 aluminium with a black anodized finish.


-10°C to 65°C operating temperature (14°F to 149°F).
IP66 Ingress protection.


Scalable design for large projects.


10A rated current throughput.


Watertight glands x 3 (∅4mm-8mm).


Easy wiring using internal rising clamp screw terminals and RJ45 connectors.


3-year warranty.

Each IP Plink Injector is built to order in our Melbourne HQ, using the latest in manufacturing techniques and is tested thoroughly before dispatch to projects worldwide.

What is the
ENTTEC PLink (Pixel Link)
system?
ENTTEC's Pixel Link protocol (or PLink) has been specially designed to extend your LED pixel or constant voltage (CV) system design over long distances.
The PLink Injectors receive PLink protocol from a Pixelator family controller.
Pixelator family controllers are a group of products that convert sACN, Art-Net, ESP, and Kling-Net into PLink data.
Each PLink port transmits up to 1024 channels (2 Universes) over a 300m distance using Cat5e/Cat6 cable from a Pixelator product to each PLink or IP PLink Injector. This means that up to 340 RGB or 256 RGBW pixels can be wired to each injector, all in perfect synchronization.
As a result, this satellite system provides great flexibility, and since the Pixelator processes all data conversion, the PLink injector is kept as compact as possible.
Alternatively, use ENTTEC's CVC4 to control Constant Voltage (CV) LED tape using the PLink's auto-addressing system to control each LED strip as an individual pixel.
The IP PLink provides an option for you to add a waterproof pixel data injector to your setup.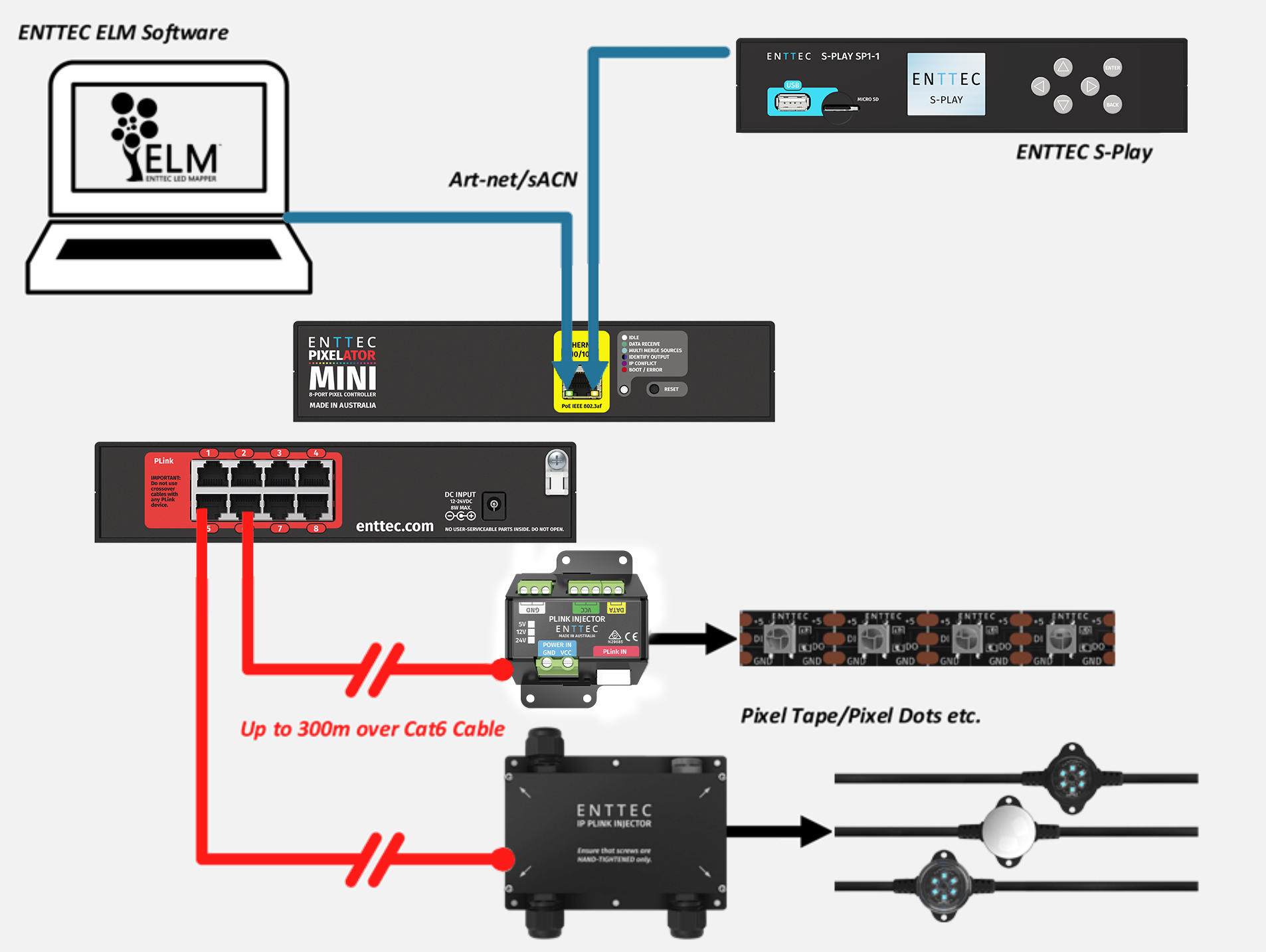 Related products