CVC4 -Constant Voltage Dimmer
4-Channel, Installation-Grade, Constant Voltage LED dimmer. Robust and reliable, ENTTEC's CVC4 is the ultimate high-precision, constant voltage (CV) LED dimmer. Prepare to take your CV projects to the next level!
Features
Tutorials
Downloads
Robust and reliable,
ENTTEC's CVC4 is the ultimate high fidelity, constant voltage (CV) LED dimmer.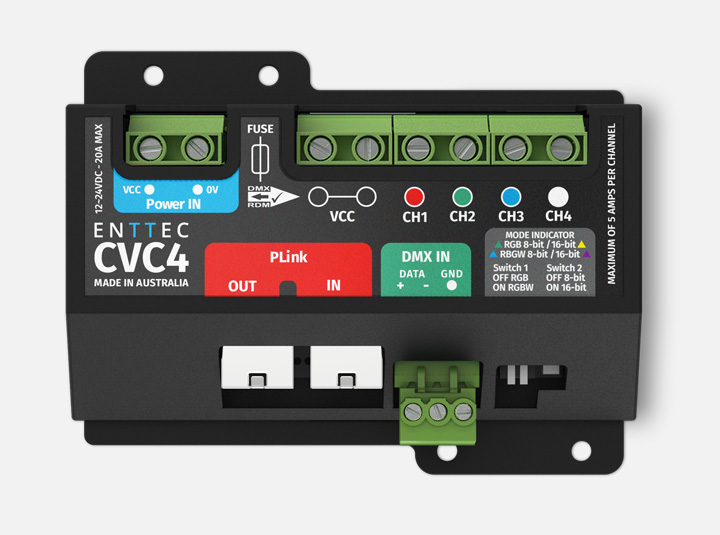 Designed and made in Australia, the CVC4 is the next evolution of the ENTTEC constant voltage LED dimmer, building upon the CVC3 and DIN-LED4PX constant voltage led driver.
Capable of controlling up to 20A across its four 5A channels at either a 16- or 8-bit resolution, the CVC4's ultra-smooth dimming, auto-addressing functionality and simple mode selection make it one of the most comprehensive yet versatile LED dimmers imaginable.
With its rugged, black ABS body featuring in-built surface-mount tabs, or an attachable TS35 DIN rail adaptor, it's fast, easy and versatile to install. The CVC4's solid-state, fanless design also means it's virtually silent when in operation.
A user-serviceable blade fuse to protects against short circuits., whilst it also has the ability to detect temperature and limit the LED output to reduce overheating.
The CVC4 has been engineered to bring the ultimate in installer-friendly flexibility and fast deployment when constructing a constant voltage LED strip project.


In a nutshell
12-24V input (20A maximum).
Dim constant voltage (CV) LED strip (4 x 5A per channel maximum).
Huge 1KHz PWM signal refresh rate.
PLink in and out connector for auto-addressing (each unit can be spaced up to 300m away from the next when using PLink over Cat6 cable).
Single DMX connector for DMX/RDM input, or chaining between devices.
Convert DMX to PLink on each device – changing the address of the first CVC4 in the chain will update the rest of them.
Status LED and mode selection DIP switch to toggle between bitrate and RGB/RGBW operating modes.
User-serviceable fuse to protect against short circuits.
Passive cooling with internal overheating protection.
Compact design with integrated M4 surface mounting holes or TS-35 DIN rail mount.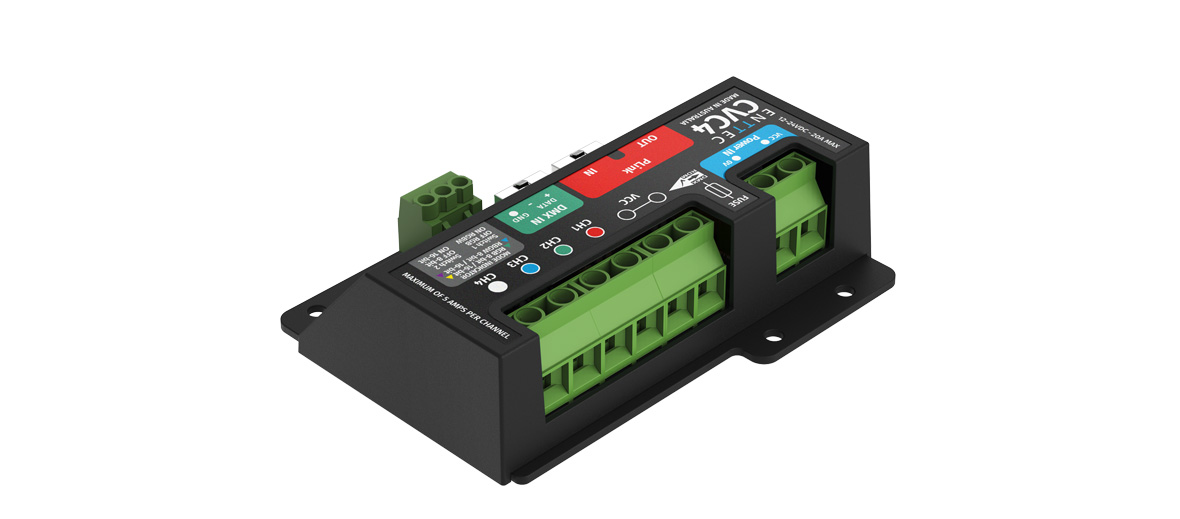 Special features
Auto-addressing
This priceless function speeds up installation time as well as working intuitively for installers, even if completely unfamiliar with DMX. Simply connect your CVC4s using the PLink protocol, add power, and the CVC4 LED dimmer will all auto-address themselves. More advanced users can also address and monitor each CVC4 using RDM.
If you're using a DMX input, simply connect this to the CVC4's input then link out of it using PLink.
Configurability
16-bit dimming is increasing in popularity and allows for users to have much finer control over their installation. The mode selection DIP switches allow users to choose between either 16 or 8-bit resolution. Simply pick your desired bitrate, select from either RGB or RGBW LED strip, then you're all set!
Safety fuse
Installing fuses to ensure that a system is safe takes up a great deal of time on site and can add to the space required per dimmer. To combat this, the CVC4 integrates a user-serviceable 20A ATO blade fuse that can be sourced easily and inexpensively to protect against dead shorts. If your installation draws less than 20A you can downrate the fuse to an appropriate level to suit your installation. To learn how to replace the CVC4's fuse, check out our short instructional video in the download section below.
Overtemperature protection
If the CVC4 ever reaches a high operating temperature, it will automatically reduce its output by 50% to prevent overheating and blink the LED Indicator red to notify the user until the device has sufficiently cooled.
DIN rail mounting solution
The CVC4 features built-in mounting points to attach an optional TS35 DIN rail clip (included in the box) to allow you to install it in control cabinets or on surfaces/walls with a DIN rail fitted.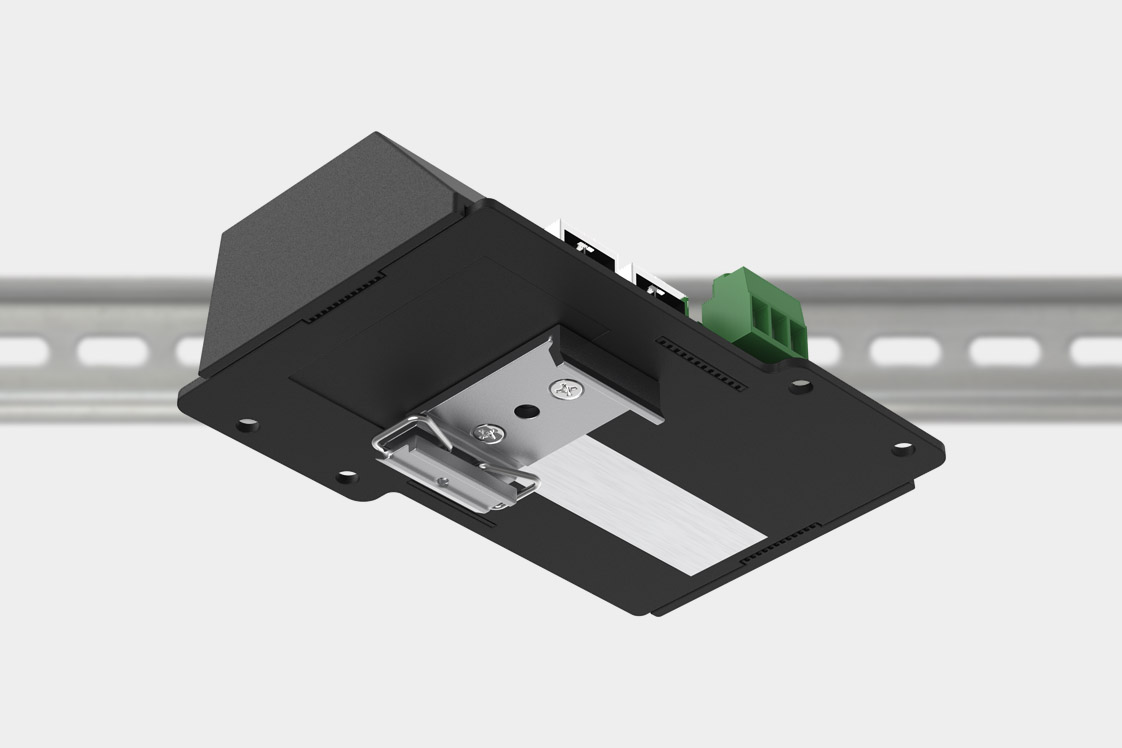 Designed for longevity
MOSFETs are used to dim the LEDs wired to the CVC4's output. During operation, it's normal for these components to heat up.
So that this device can run safely at a sustained temperature, our engineers have ensured that all MOSFETs are directly bonded to a heat spreader to transfer heat to a larger area to dissipate better regulate its performance. Be wary of many cheap products that do not allow these components to dissipate heat, severely risking lifetime of your project.
Backward compatible with the CVC3 + DIN-LED4PX
Given the CVC4's range of operating modes and flexibility to accept DMX or PLink data, it is fully backward compatible with systems using ENTTEC's DINLED-4PX and CVC3 (note: adjustments in dimming curve between different models may be needed).
3-year warranty
ENTTEC are proud to back up the confidence in our research, engineering and quality control with a 3-year manufacture defect warranty on this product.

Let's get stuck in!
How much CV strip can the CVC4 control?
There are many variables to take into consideration when calculating such a figure, not least the precise specifications of LED strip you are connecting to it. ENTTEC offers a comprehensive range of RGB, RGBW, white, and colour temperature adjustable (CTA) constant voltage (CV) strips to cover a large variety of potential requirements.
Our engineers have tested all available ENTTEC models and established that a single CVC4 unit will comfortably control anywhere from 17m of high output RGBW Strip (ENTTEC 9VLW) up to 29.5m of White LED Strip (ENTTEC 9CH) – calculated to allow for a 10% voltage drop & cabling overhead.
You'll find details on how to calculate the maximum run length for your chosen type of CV strip within our CVC4 Installation Guide, downloadable below.
Note: the guide figures above refer to the maximum capacity that the CVC4 itself can control and do not factor in any limitations of each strip type (e.g. power re-injection or limitations of continuous run length. Of course, you are always very welcome to contact us if you need any help to determine the best setup combination for your project).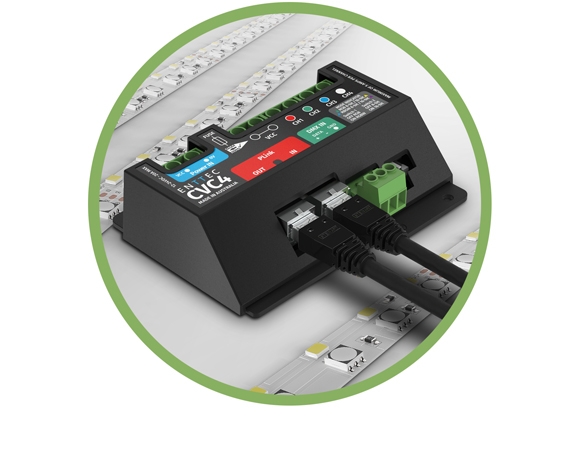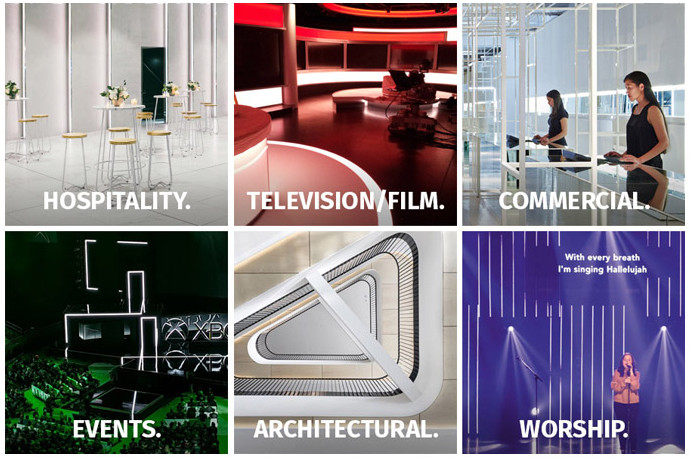 Applications
Constant voltage (CV) LED strips are a highly flexible and customisable light source, making them perfectly suited for many different types of lighting applications. Unlike traditional lighting, an LED strip can bend, flex and adapt to fit any installation's needs.
The CVC4 changes relative brightness of each channel to produce different colours and effects. What's more, its comparably high PWM rate (1KHz) means that if the LED strip it is controlling is filmed, it will not appear to flicker in recordings in the way that those controlled by LED dimmers with a lower refresh rate do, making it the ideal device for television studio installations or indeed any space you want to look stunning at the receiving end of a film camera or social media video.
What is the ENTTEC PLink (Pixel Link) system?
ENTTEC's PLink protocol has been especially designed to extend your LED pixel or Constant Voltage layout over long distances.
With their compact installation footprint, you can use a series of PLink Injectors to convert PLink data from your Pixelator, or Pixelator Mini allowing you to easily control LED pixel tape or pixel dots up to 300 metres away over standard CAT6 cable.

Alternatively, use an ENTTEC CVC4 to control Constant Voltage (CV) LED tape using the same method!
How do I wire my CVC4 up?
The diagrams here provide a general view of several of the CVC4's core setup concepts. In particular, you'll see how easily the CVC4 can be integrated directly with a PIXELATOR system without having to convert to DMX first, unlike the case with other off-the-shelf LED dimmers. So many possibilities! For more detailed information regarding project requirements of different scales and types, please consult the Installation Guide in the download section below.
Specifications + downloads
Documents
Firmware
Visuals
Maintenance


CVC4 is compatible with:

CV Strip
Control products