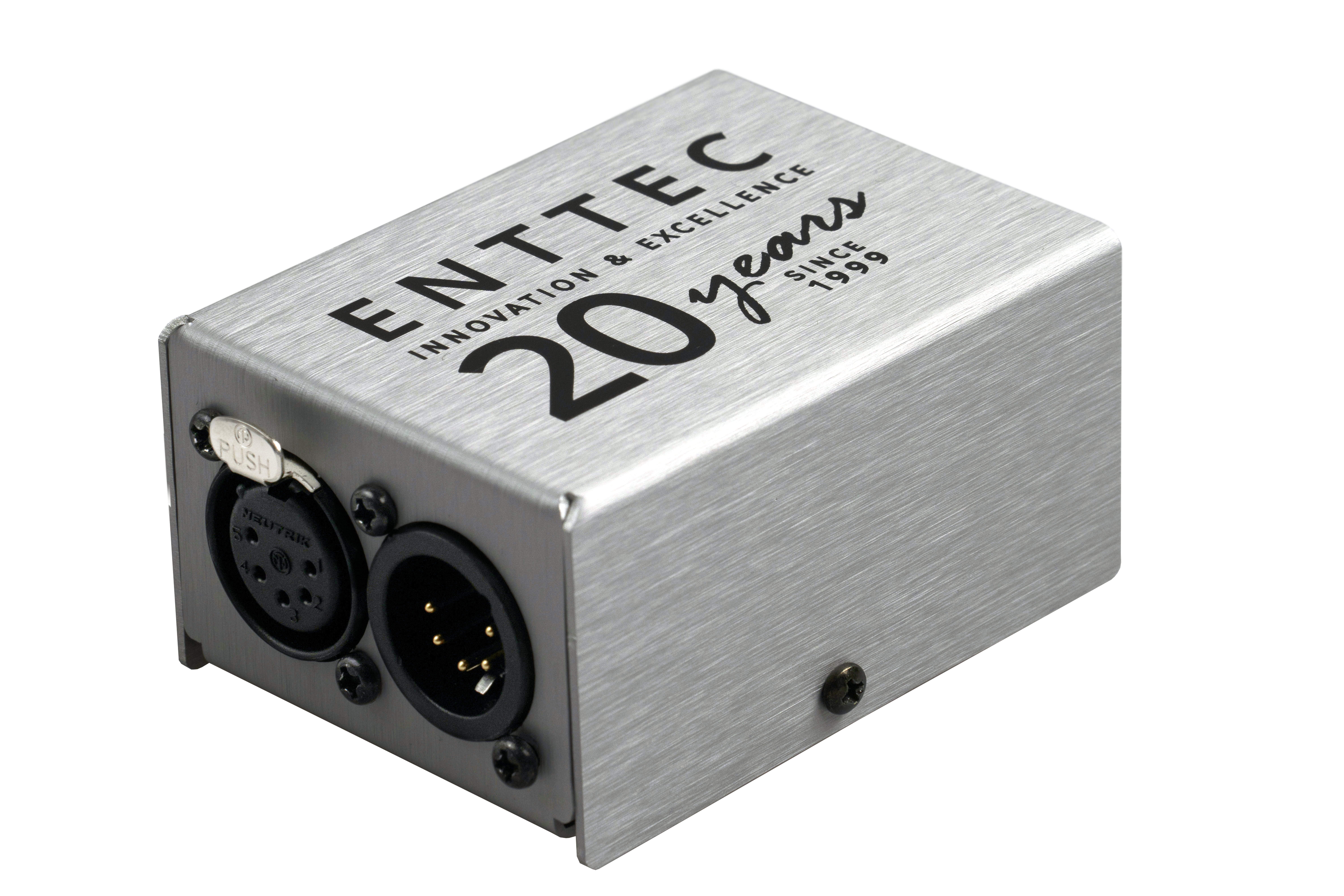 Limited Edition 20th Anniversary DMX USB Pro
To celebrate our 20th anniversary, we've created an extra special version of our ground breaking DMX USB PRO
Your chance to own a piece of lighting tech history!
To celebrate our 20th anniversary, we've created an extra special version of our ground breaking DMX USB PRO. With a gorgeously robust metal finish and the latest high-end components, we think you'll agree that it forms a fitting tribute to one of our most coveted devices.
Only 200 of these are being made, so get in quick – because once they're gone, they're gone!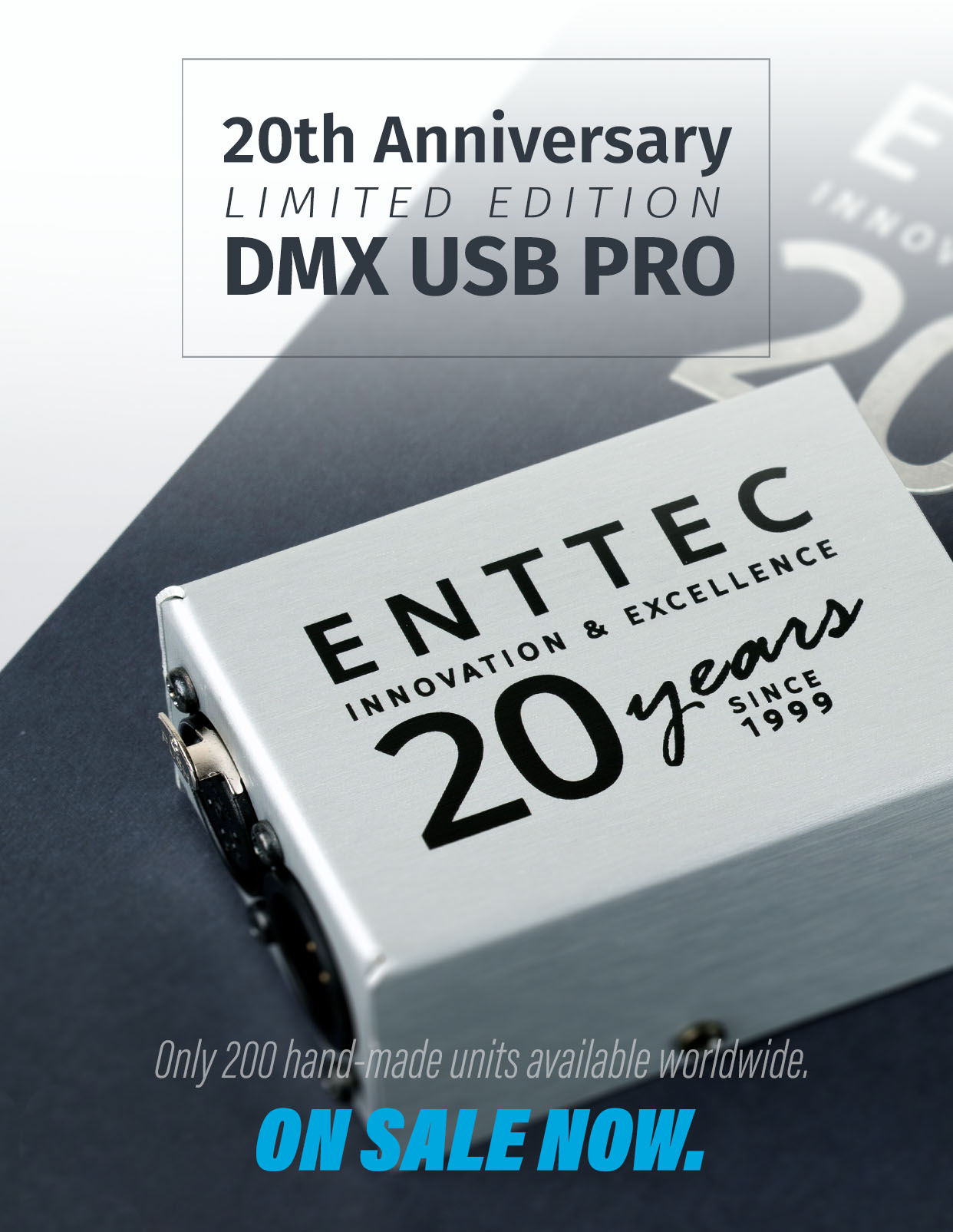 ⚫ Hand-crafted in Melbourne, Australia
⚫ Brushed anodised metallic finish with unique 20 Years graphic
⚫ Premium Neutrik 5-Pin XLR
⚫ Samtec industrial high-retention USB port
⚫ Limited to only 200 units worldwide
⚫ Individually numbered cases and commemorative sleeve
⚫ 20-year warranty (conditions apply)
What is a DMX USB PRO: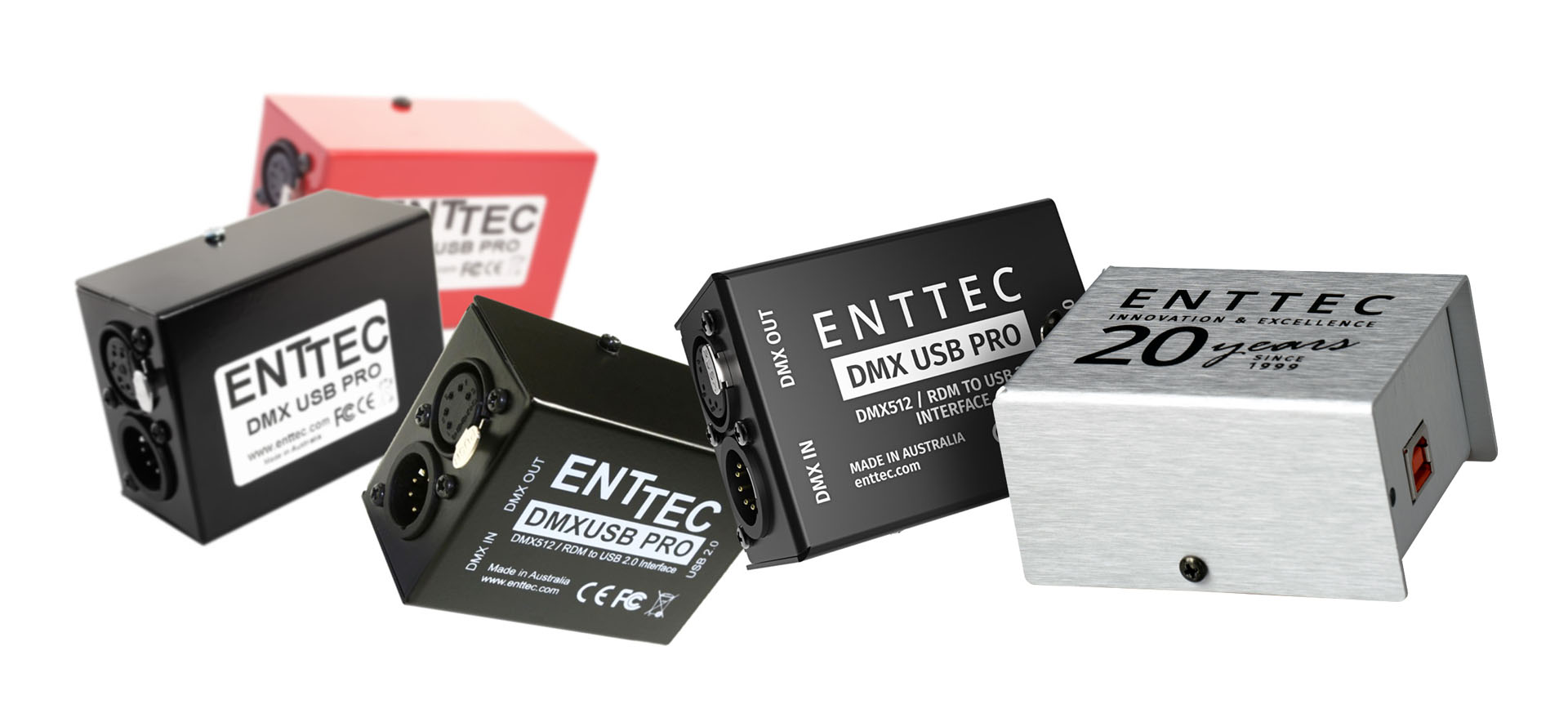 Its visual appearance may have changed over the years, but the ENTTEC DMX USB PRO Interface has achieved its industry standard status by continuing to do the one thing it does best. And that's to provide the most robust, reliable and cost-effective way to connect DMX lights to your computer.
With industry standard-5 pin input and output connections as well as 1500V full isolation for both data and power lines, the DMX USB PRO supports USB 2.0 for sending or receiving a DMX512 signal through a robust USB type-B connection.
Using its onboard processor to regulate a steady, reliable flow of data regardless of your computer's workload, the DMX USB PRO is compatible with an enormous range of commercial and free software for PC, Mac and Linux devices.
Famously-reliable, and hard-wearing enough to survive years of life on the road, it's no wonder that the DMX USB PRO is the first choice in its class for lighting and music professionals throughout the world.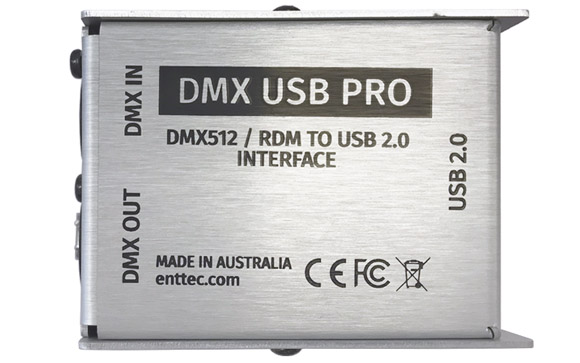 DMX USB PRO in action
James from @page.processing uses an ENTTEC DMX USB PRO to control DMX lights throughout the impressive instillation.
Specs, Apps + Downloads?
The 20th anniversary limited edition DMX USB PRO comes with a special brushed metal finish and premium components from Neutrik and Samtec, plus a few other neat features including a 20 YEAR WARRANTY! (conditions apply).
Its functionality and operation, however, is exactly the same as our existing classic DMX USB PRO interface. Therefore, to learn more about the device's technical specs, its compatibility with other products, what it can achieve and how it works, please refer to the standard edition's product page and related downloads.
But remember that there are only 200 of these special units in existence worldwide. Available only through enttec.com, they've been physically distributed across our three website/office regions (Asia-Pacific, Americas and Europe), and you can see how many are left in stock in your region above the 'Buy Now' button at the top of this page. They'll be gone before you know it, so get in quickly!